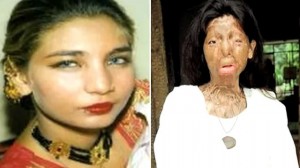 A few nights ago, right before bedtime, I read a story that stirred my own childhood memories of what had happened to my mother and our family.  Instead of a restful night, I tossed and turned, unable to sleep.  The positive was that the experience reinforced my ongoing commitment to help other women in some meaningful way.
Fakhra Yunus a woman who had been severely burned with acid thrown into her face by her husband, Bilal Khar, jumped out of her sixth floor apartment in Rome. For 13 years Fakhra had struggled against the same kinds of injustices carried upon many women in her native Pakistan.
I can but only imagine Fakhra's suffering. According to her husband's ex-stepmother, Pakistani writer and activist Tehmina Durrani, "So many times we thought she (Fakhra) would die in the night because her nose was melted and she couldn't breathe. We used to put a straw in the little bit of her mouth that was left because the rest was all melted together."
She had 38 to 39 surgeries in total. No, that's not a misprint: 38 to 39 surgeries. Durrani says, "(Fakhra) had not just become faceless; her body had also melted to the bone." Fakhra's husband Khar is a product of an influential political family who has successfully been able to avoid punishment for his crimes. He maintains his innocence, and, if anything, is indignant at the mere suggestion that he is guilty of any wrong-doing where his wife was concerned.  Unfortunately for many women of Pakistani descent, Fakhra's story is an all too familiar one.
ABC News –
Acid attacks are prevalent in certain parts of Asia. According to the New York Times' Nicholas D. Kristof, who reported in 2008 that attacks were then at an all-time high in Pakistan, they are often the work of husbands who attack their wives as a form of revenge for refusing sexual advances or other proposals. More than 7,000 deliberate burning attacks against women were recorded by the Progressive Women's Association of Pakistan in just two Pakistani towns between 1994 and 2008, according to Kristof's report. Only 2 percent of those cases were successfully prosecuted, he said.
As a frequent traveler, I have found myself in countries where women's rights don't seem to exist. In one country that I visited during a religious holiday, I was told that even though I had pants and a button up shirt that fully covered me that I "should be even more covered lest I should tempt a man during the holiday," as if I was to be held responsible for any random male's possible thoughts or actions. In another country, I noted how dangerous it was for a woman to be out in public around 10:00pm. She might be harassed or worse as it may be taken to mean that she is out at night for "a reason." It is important to note that while here in the United States current laws exist that grant all equal rights to all citizens, there are women in this country suffering from abuse as well.
To many, stories like Fakhra's, seem very removed, but to me, this is representative of a larger struggle. We are no longer from one country or another.  With the internet, planes and telephone, we truly are part of one global community.  What affects you, affects me and vice versa which is why I am really reinforcing my commitment to helping both women and children who are more often than not the victims of abuse.  The only person that ever need be in control of that woman's life, is that woman herself.  My goal is to empower women so that they can release the past and let go of the baggage that comes with emotional and/or physical abuse.  I want to give them what they need so that they feel strong, confident, positive and successful.  I want to help women reach their full potential as human beings and as women.